City water doesn't always have the most appealing taste, regardless of how beautiful the city or how carefully the water system is regulated. And in locations where hard water is the norm, it can make cooking and cleaning difficult. Soap scum sticks to dishes, mineral buildup reduces the water flow from faucets and other issues arise. Water treatment options, such as reverse osmosis systems, can turn difficult water into more enjoyable and useful water. SODECO has a variety of softeners or systems available and can help you choose the one that's right for your family.
What Does Water Treatment Do?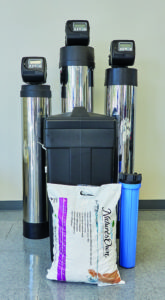 Pure water is composed of hydrogen and oxygen. But water is a
solvent and many things want to dissolve into your water. Also, city or municipal water is chlorinated, and that changes the taste and smell. This is why we offer a wide variety of water treatment systems, so you can choose what's best for your family, such as:
You can choose the system that suits your family's needs, whether it's a standard, softener, filtering system or reverse osmosis. Water treatment removes the impurities, leaving you with clean, fresh household water.
 SODECO Provides What You Need
Instead of a company or franchise that pushes for the sales, SODECO is
dedicated to providing our customers with what they need and nothing more. You can get accurate answers to your questions and not worry about dealing with a pushy salesman. If you need to ask around to compare prices, we encourage it.
Our technicians will test your water, examine your current plumbing and give you a quote. And we won't leave you in the dark; you'll receive all the information you need to be aware of what your system can and will do. If you need assistance, just contact us right away and we'll be ready to help.
Installation
SODECO installs all of the equipment and systems we sell. We know all the details of our softener and R.O. systems. An experienced installer makes a big difference in appearance, as well as function, of the equipment. Proper materials, layout and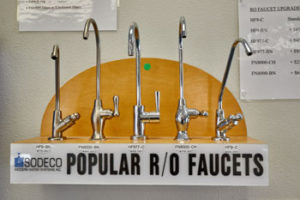 serviceability are always considered. Our professional installers know the specifics of our systems that you or your regular plumber might not. So rely on our expertise and trained professions to do the job right.
When you buy from SODECO, you get the whole package – the right equipment, properly installed, with ongoing service and support.
FAQs

 CLICK HERE FOR A LIST OF FREQUENTLY  ASKED QUESTIONS
This should help answer many of the questions you have, and probably some you didn't think of yet. Give us a call or stop by and we'll give you the personal attention you need to learn about improving your home's water. When you stop in, you can see the actual equipment, pick up literature and ask us as many questions as you want.
HOW TO CHANGE YOUR WATER FILTER
Dial 505.883.5061 to talk to knowledgeable technicians about what water treatment options are available!