A water softener is an investment in your home. Soft water doesn't lead to mineral deposits in your plumbing and doesn't damage household appliances. But it's still a machine and one that gets used every single day. Machines wear down and can break. When that happens, SODECO is ready to provide you with high quality and quick water softener repair.
Maintenance and Repair
A water softener has valves, controls and media that function to give you clean, soft water. That means day in and day out usage. Any machine can break down over time, and a water softener is no different. You've invested money into your water softener, so it should last you the average lifespan of 15 years. During that time, you need reassurance that if something goes wrong, it can be fixed.
Many suppliers lock you into proprietary products that can only be purchased through them. SODECO uses professional but more generic equipment such as Pentair, Fleck and Clack that will be more reasonable to maintain and repair. If something goes wrong, you can call for help and receive it.
SODECO is Here for You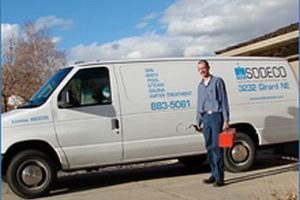 We focus on providing quality customer service and work transparently—we don't mind if you ask around for a better deal or want information on what your system can and can't do. SODECO believes that customers have a right to be informed about what they're paying for. And we'll even show you how to do safe DIY maintenance so you're empowered to make the right decisions for your family.
Our showroom is available at 3411 Girard NE in Albuquerque, NM. We encourage you to come by and meet our staff, see the systems available and ask questions. Your home is important to you and you have the right to receive honest answers to your questions as well as receive quality service every time. Contact us today to learn more or schedule a repair call!
FAQs

 CLICK HERE FOR A LIST OF FREQUENTLY  ASKED QUESTIONS
Call 505.883.5061 to speak to qualified staff who will schedule your repair call!