Bottled water costs a lot. Whether you pick it up and haul it home or have a delivery service, there are inefficiencies and expenses with bottled water. With your own reverse osmosis system, you get high-purity water as you need it. A separate, attractive faucet gives pure water for drinking, cooking, pets, ice and more. You'll even fill your water bottles to go from your reverse osmosis system.
How Does Reverse Osmosis Work?
The reverse osmosis process uses a semi-permeable membrane that removes up to 99% of impurities and contaminants from your water. By using only water pressure, the water is essentially "squeezed" through the membrane. Pure water goes in one direction and the rest flushes away.
Possible contaminants that can be removed by a reverse osmosis system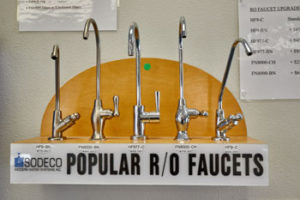 include: arsenic, asbestos, cryptosporidium, cyanide, fluoride, giardia, lead, mercury, nitrates, radon, chlorides, chlorine, copper, sodium and more.
SODECO Offers Reverse Osmosis Systems
You get these extras with every reverse osmosis system from SODECO:
50 GPD (gallons per day) membrane for efficient production and quick recovery time
Choice of faucet styles and finishes, including the new brushed finishes
First extra set of replacement cartridges free
5-year parts and labor warranty from SODECO.
If you have a problem, all you need to do is call us!
FAQs

 CLICK HERE FOR A LIST OF FREQUENTLY  ASKED QUESTIONS
Call 505.883.5061 or come by our showroom at 3411 Girard NE in Albuquerque!